Ambulatory Equine Veterinary Practice in Southeast Wisconsin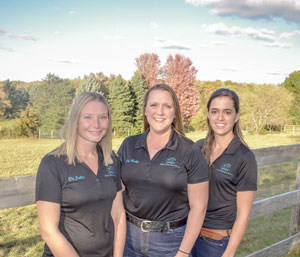 With over 40 years of equine medical and surgery experience, Johnson Equine Veterinary Service, Ltd. aims to provide practical solutions for both horse and owner. We empower horse owners to make informed, educated decisions that suit their needs and those of their horses.
"I have always believed in taking a practical approach when diagnosing and treating horses. Sure, extreme measures are sometimes needed, but they may not be necessary if an alternative, more practical solution is available for both horse and owner."
– John Johnson, DVM, MS
Contact us today to set up an appointment for your horse!
Follow us on Facebook for all of the latest updates!
At the Wisconsin Equine Clinic & Hospital in Oconomowoc, clients and veterinarians have access to full surgical, medical, and reproductive care facilities. Their clinic offers shockwave therapy, diagnostic ultrasound, x-ray equipment, complete reproduction and neonatal services, comprehensive dental procedures, ophthalmology care, and a host of other services. Their popular Wellness Program is a unique preventive health care program for all horses.
The clinic's main facility houses surgical suites, critical care facilities with heated stalls and 24-hour monitoring, a diagnostic laboratory, a reproduction laboratory, an indoor arena, and 35 stalls and 15 paddocks. A newly-completed 7200 square foot addition features 5 intensive care stalls, a neonatal care unit, a new laboratory and nursing station, and a client waiting room. The Wisconsin Equine Clinic & Hospital can be reached by calling (800) 564-1550.
---
Gladiator Sports
Gladiator Sports is the Official Sponsor of Hillside Polo School. They help our students acquire great polo gear at a fair price. They have a large selection of riding gear for all disciplines, and they offer a great line of sporting goods as well. Mention Hillside Farm when placing your order.
---
Monty Roberts' Join Up
From Monty Roberts' Join Up website:
Known as, "The Man Who Listens to Horses," Monty gained international fame by developing a method of communicating with horses using their natural body language and a technique he calls Join-Up. Founded on a consistent set of principles, communication, and trust, Monty's methods assert that violence is never the answer. The Join-Up message has inspired new ways of thinking outside of horse training as well. Today it is being applied successfully by corporations, governmental agencies, school administrators, at-risk-youth, violent offenders and many others.
---
United States Pony Club
Pony Club is one of the leading junior equestrian organizations in the world, represented throughout 30 countries! The United States has over 600 individual Clubs spread throughout 48 states and the Virgin Islands, with more than 12,000 members.
---
Excalibur Insurance Agency
Excalibur Insurance Agency was established over 20 years ago with the goal of offering the top-notch equine insurance protection you need. Based in Hartland, Wisconsin, Excalibur Insurance Agency offers a variety of horse insurance coverage, including mortality, equine liability, horse farm insurance, and additional endorsements. Providing coverage to horse owners in Wisconsin and most of The United States, we have established a solid reputation in the industry for our customer-focused approach and in-depth knowledge on all horse insurance plans.
---
Horse Emporium
Horse Emporium has been established in the Waukesha Community since 1986. Owner, Sue Audley, specializes in High Quality Tack, Riding Apparel, and Supplies for all of your equestrian needs. Personalized customer service is what we provide to you, our valued customer. Sue has recently expanded the Horse Emporium Showroom to be one of the largest tack shops in the State of Wisconsin. Now located in the customer friendly, historical area of downtown Waukesha.
---
Stolen Horse International, Inc.
Stolen Horse International, Inc. (SHI) brings attention to a major crime against horse lovers, horse theft. The mission of Stolen Horse International, Inc. is to provide a comprehensive theft awareness program to all facets of the horse industry and offer educational opportunities for horse enthusiasts of all types and across all disciplines.
---
U.S. Polo Club
US Polo Association For the beginner rider to the best, experience limitless opportunities for travel and networking while enjoying the thrill of one the oldest team sports played today. We invite you to join a unique group of men and women who are drawn to polo in pursuit of camaraderie, passion for horses, as well as outdoor adventure.
---
Area Charities
Hillside Farm is has a strong connection with, and is dedicated to, the local community. The following are a few of the charities we have had the pleasure of working with, supporting, and helping out.
Milwaukee County Zoological Foundation
Discovery World
Cedarburg Community Foundation
St Kate's for Women in Milwaukee
Mount Mary College
UWM- Equestrian Team
Local police fund raisers
St Boniface Parish
West Bend Noon Rotary Fundraiser
United States Pony Clubs
St John Vianney Parish
Pius XI High School
Girls Scouts
Brownies Scouts
Women's Charities
Women's Soccer Club
Plus many more